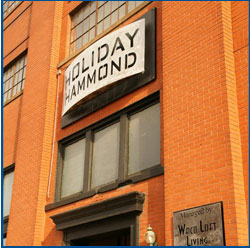 Holiday-Hammond Lofts
Experience the lofty living of downtown Waco…
The Holiday Hammond Lofts is located at 220 South 2nd Street (at the corner of 2nd and Mary Street) in the middle of Waco's Entertainment and Riverwalk District.

This warehouse building was originally constructed in 1913 by Hanna James Taylor and was home to his wholesale grocer business for over 30 years. In the mid-1940's Hanna James Taylor Company sold the building to Hammond Industries, an institutional laundry machine and cleaner company. Hammond then moved their home office and sales division to Waco where they operated until EL (Ecolab) purchased the assets of Hammond Industries in the mid 1970's.

Converted to the Holiday Hammond Lofts in the late 1990's this warehouse loft conversion now offers 16 residential lofts, consisting of 9 one bedroom and 7 two bedroom lofts. Brimming with history Hammond's offers original wood floors, 14' to 16' ceilings, brick walls, in addition to massive exposed wood beams.

As an added bonus, there are now two restaurants within the building; Wingstop and Teriakyi Park which are open 11:00 a.m. until midnight nightly seven days a week.
Amenities
Controlled Access Building
14′ – 16′ Ceilings
Wood Floors and Ceilings
Walk-In Closets
Laundry on each floor
Dishwasher/Disposal
Ceiling Fans
Microwave
Lease Prices

(A Plan)
One Bedroom
(Approx 800 sq. ft.) $875

(B Plan)
Two Bedroom/Two Bath
(Approx 1700 sq. ft.) $1,395

(C Plan)
Two Bedroom/Two Bath
(Approx 1500 sq. ft.) $1,150
Reach out to us for more information about the Behrens Lofts or visit the website: holidayhammondlofts.com/

CLICK HERE FOR AVAILABILITY.